Where did my mojo go?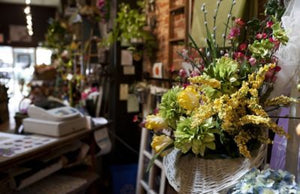 Do you even remember me? Ya, me. I was blogging last year and then it happened. I lost my mojo.
Not sure what I am talking about? It's that get up and go, that zest for all things in life. It happens to each of us from time to time. I have wondered for awhile what made it sizzle out to a bare puff of smoke over ashes found in my fire pit.  So full of ashes you can't even find a warm spot to turn into a spark to reignite it. Crazy metaphor - I know.
Last year was a big year for us. We brought in Annie Sloan Chalk Paint TM, took on more weddings then we usually do, our staffing changed a bit, and my young girls got busier. I can't pinpoint one thing. I think it was the culmination of everything. We moved right from weddings into Christmas where we usually have a months hiatus. I just never seemed to be able to catch up.


Anyway, it has left me feeling like a bunch of those ashes. A million tiny little pieces, waiting for a new log to come around to get me burning again. But where it is? What is the new log going to be? What is going to get me moving and bring some inspiration?
We took a trip, all of us ladies at the flower shop, to Las Vegas just after Valentine's. I thought that might do it. Relaxing, sights, great floral displays, and a side trip to Los Angeles. We came back and nope. There was nothing. (Note - we did have an awesome time) I've gotten back to painting and attending auctions, it feels good but I still don't have that burn.
Mother Nature hasn't been fair to any of us either. Its been grey and gloomy and not a lot of sun. I think for the first time that has also played a factor. We have noticed that with our customers too. Lots of you are talking about how we need more sun, more light, more warmth. We get a little frumpy and grumpy without those bright little perks that come through in winter. Yet, here we are in spring and I think I am not alone in my funk, my lost mojo.
As I head back to the garage to listen to music while painting tonight, I am hopeful for the renewal of spring, the growth of possibilities, the light that awakens our spirit and the intense heat of the sun that will allow me to spark once more into what I hope is a fantastic year here in the Thousand Islands. I mean, at the end of every day when we step outside, we find ourselves living in the most beautiful place on earth.
Until next time, N.
Leave a comment
Comments will be approved before showing up.
---
Also in The Floral Blog ~ Life, Flowers, Moments, Thoughts